We like to put a few faces to our services
We are at 406B Joo Chiat Road
Singapore 427634
(Opposite Joo Chiat CC)
Door entrance at Fowlie Road
Viewing strictly by appointment only
Look out for this overhead sign at the walkway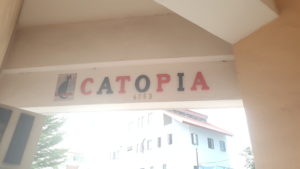 Whenever an owner is going away, there has always been this question of whether owner should leave their cat at home and get a sitter to come in to attend to their cat, or to take the cat out and leave them in a boarding house
Here is our opinion and advices for you to consider:
OUR BEST RECOMMENDED SOLUTION – COME TO OUR STAYCATION  
Here is where your cat will have all the attention it needs while still have the luxury of being alone but monitored, and many more reasons for you to leave them with us.
Cats-Only Environment
Catopia which is an exclusive boarding house for cats only, she will not be smelling any dogs or other animals existence thus eliminating more fear.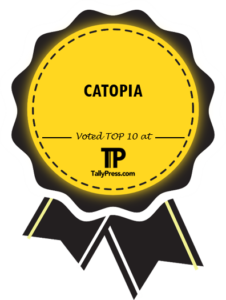 In fact we got the highest vote in Tallypress.com !
More on the Tallypress coverage at
http://www.tallypress.com/features/dont-let-your-vacation-be-a-cat-astrophe
 Coverage from MANJA
Media Coverage from I-Weekly Magazine
Executive Rooms
These are for those parents who wants to really pamper your kitties or for those who have a family of 3 or more cats and want them to be together all the time. We have 2 of these huge rooms at this point. Only same family cats are allowed to share the room.
$140 per night for up to 5 cats (1 or 2 or 3 or 4 cats a minimum of $140/night applies)
For 6th cats onwards add $20 per cat per night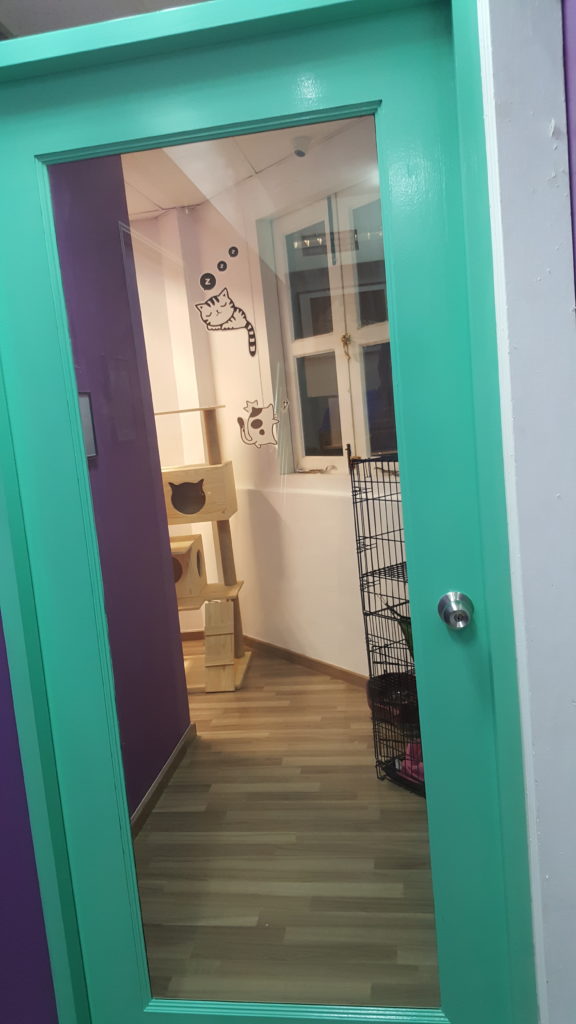 Cosy & Spacious Cabins
These nicely built cosy and spacious cabins are meant for 1 or 2 cats and even 3 small cats. They are laid with nice cool stainless tiles and come with beds and litter pàns. Parents can opt to let the kitties out to play at times.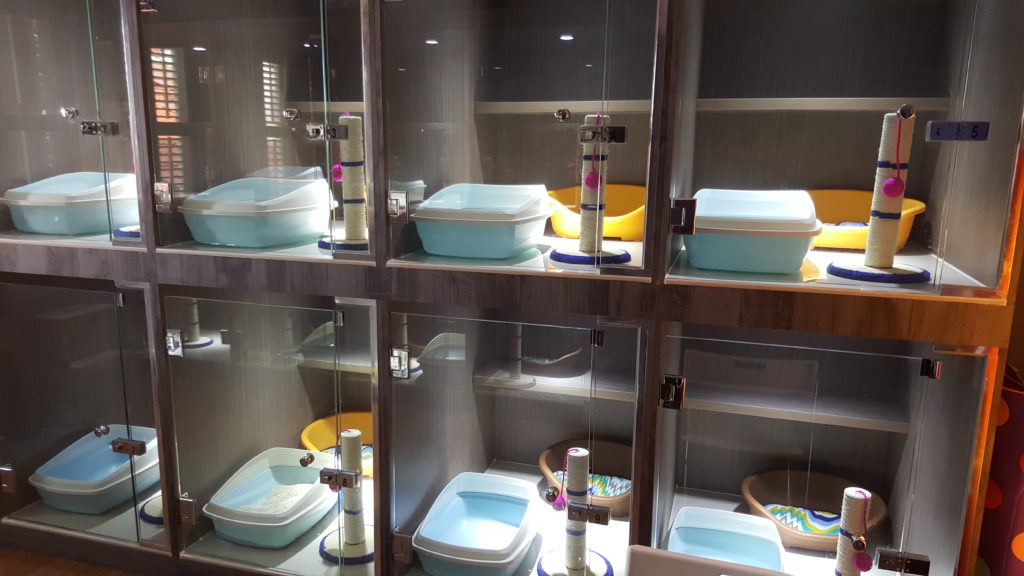 1 cabin can fit 2 cats or 3 small cats or kittens
Solo Cabin
Sgd 38 /night/cat (min 2 nights charge)
Two cats Sgd 65 per night
Three cats Sgd 90 per night
Wet and dry food will be provided (inclusive in the boarding charge)  However if your cat eats his own specific brand then we advice you to bring it.
Litter
We will make sure all day that her/his passing motion is well attended to. We will clear the litter bin 3 times daily. we provide only sand, if yiur cats needs tonuse any other material then you will need to bring it.
Playtime
They will also have plenty of playtime if they are not aggressive towards other cats. On most occassions we will allow your kitties to stay in our play lounge as long as possible unless your instruction to limit it and insist proper rest in their designated rooms.
Special Medical Requirements
And where there are requirements for medication eg, insulin, simple oral dosages, we can help to ensure timely provision.
Cuddling
Yes, we will provide countless cuddling sessions for your kitties, cos we simply love cats and this also the reason for us in setting up this hotel !
Service warranty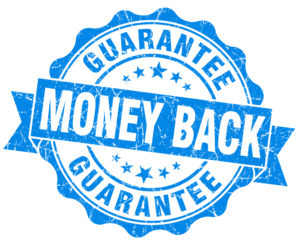 Monitoring
We have installed 24 hours surveillance cameras to further ensure the safety of your babies. Safety is never compromised here
That is why we dare say that Catopia is the Staycation for cats, and you will leave your overseas trip in peace, or if leaving for work when you leave her here just for the day care.
HOW TO GO ABOUT BOOKING
Call 93888893
Check the availability of the dates you require
We charge for the nights your cat are boarded, so say you book 23rd to 27th, that means 4 nights. For a single cat in a solo cabin the rate is $38/night. For more cats in a cabin please check pricelist. By clicking below link or our pricelist page.
To reserve the cabin or room, a 50% deposit (non-refundable) is needed which you can pay in person(make appointment to come to Catopia at 406B Joo Chiat Road) or pay via bank transfer (POSB CURRENT ACCT 858-05881-3
Whats app/message/email us the bank transfer confirmation
Let us know your check-in time 2 days prior to the day of check in (check-in timing shd be between 9am to 6pm)
Check-out latest by 6pm. After 6pm, you will need to book an extra night and pick your cats the next day (make an appointment timing to pick your cats)
Transport is available payable at our transport rate ($100 for 2 ways and $50 for a single way)